Want to run your business efficiently and effectively? We have several tools to help you with that. Whether you are a beginner or seasoned business owner our products will help you make the most of running a successful business.
Pinterest Easy Title Templates
Pinterest is a wonderful place, but with so many images to choose from  – how do you create an image that grabs attention and gets repinned? If you are not graphic designer you may find it difficult to create those eye catching images. Well, not anymore – here's the answer, create easy to read graphics in an instant with Pinterest Easy Title Templates.
Learn more about Pinterest Easy Title Templates here.
Start Your Own Online Business
Learn how to start an online business in only 7 days!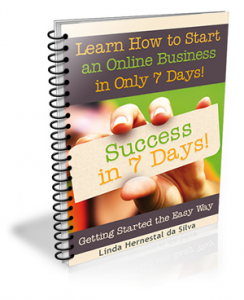 A Practical guide full of information to get you started the right way. Learn the basic structure every successful online business need and the biggest mistakes new online marketers make.
Learn how to get started using your offline profession and passions staying away from scams at the same time.
Discover the quickest way to start working at home using the information you have available.
Learn the strategies that will make sure you work efficiently without wasting time.
Understand why most new online businesses fail and how to avoid that it happens with your business.
Learn how you can work less and earn more. Wouldn't it be wonderful if you could spend precious time with your family while knowing you are still making money?
Get The Book
If you know you want to start your online business then go directly here and buy the book for the current price of $27.
If you want to read the long sales letter of what you get, go to Success in 7 Days and then buy the book.
Get Organized With The WAH Organizer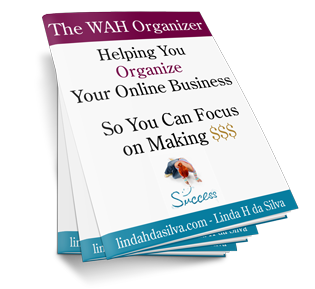 Do you feel it is overwhelming to keep track of all the details that are involed in running an online business?
Too many accounts, passwords, log in details to remember? Or do you feel you need a better structure for working on your busness?
As your business grows so will the amount of information you will need to keep track of. Relying on sticky notes to remember passwords is no longer an option, instead you need a smart way of keeping all your information in one place.
It doesn't need to be difficult to have an organized online business. All you need is a good system in place that will give you the information when you need it.
The WAH organizer Will Help You Keep Your Online Business Organized
Get organized today! Get your copy here! Read more about the WAH Organizer here.
Trade Your Stressful Life for a Calm and Organized Home
We all know how stressful it can be to try and balance work and family.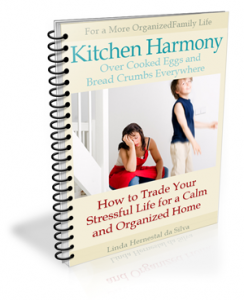 The stress of knowing what needs to be done but not knowing how to find time to do it can be overwhelming and cause much pain.
How many times have you not tried to pay attention to what your family wants, talking to someone on the phone, distracting a crying baby all while doing something else that is a "neccessity"?
That is just crazy. What if instead you could do your grocery shopping in peace without forgetting half of everything you should have bought. To be able to prepare a nice meal for your family without worrying about cleaning and tomorrows tasks. It is possible!
Learn how to trade your stressful life for a calm and organized home today.
Get your copy here! Read more about Kitchen Harmony here.